Q: How Do You Compete With Bigger, More Established Vendors in Your Space?
A: By Learning and Using Copywriting and Content Marketing in Your Business.
Get the FREE Copywriting and Content Marketing Crash Course Right Here. Information-Rich and Fat-Free.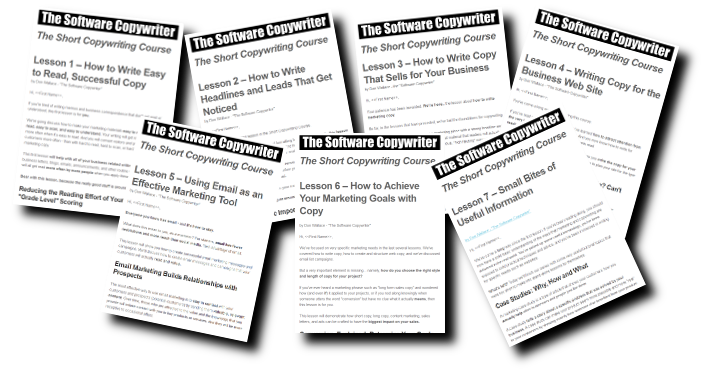 Learn how to write materials that get read. Find out how to persuade in print. Learn how to plan and build the content for web sites and other key marketing materials that sell the products and services that you offer to your customers.
The Free Crash Course in Copywriting has all of this, and more. It consists of seven heavy-duty, meaty lessons on specific topics, delivered to your in-box every few days during the business week. The average length of each of the lessons is almost 2000 words (but they're organized by sections and you can skip around if you like.) Each lesson covers an important marketing topic that comes up in the life of a small technology business.
Questions and Answers about the Course
Q: Why are you telling us how to write our own copy?
A: Owners that I've spoken with over the years – just like you – often feel overwhelmed by the jargon of copywriting, content marketing, and social media.   And when you look for information on the web or in books about copywriting,  you generally find fragmented information. But you really want to-the-point advice for real life marketing needs. I felt that a simple, focused, nuts and bolts type course on copywriting – the course you're about to sign up for – was the best way to remove the "smoke and mirrors" from copywriting.
Q: Will You Pester Us to Death for Business After We Sign Up?
A: Uh, no! Use a free email service address if you're that concerned. I won't share your email address with anyone else. Promise.
Q: What else will you email to me if I sign up? Just the lessons? Or a bunch of promotional stuff?
A: When you sign up with the form on this page, you'll receive a brief "Welcome to the course" email. Then you'll receive the lessons.